Favorite Japanese Dishes
---
Sometime in the year 2000, a friend introduced me to Japanese food at a wonderful little restaurant in downtown Westborough called Hisa. I've tried several of their dishes and have never been disappointed. I would eat there every day if I could afford it! I love the food, the service is excellent, the people are extremely friendly, the atmosphere is very nice, the prices are reasonable, and the location is convenient. What more can you ask for in a restaurant?
Anyway, this page is my attempt to share some information about the dishes I've tried so far. You can find more information and recipes at:
Note: A special thanks goes to Matt, without whom I wouldn't have known about any of this!
---
This was the first thing I tried: deep-fried vegetables in a crispy batter. It's the cheapest dish on the menu but it still comes with soup and rice, so it makes for a nice meal. If you don't normally like eating your vegetables, try these! This has got to be one of the best ways to cook vegetables. Yum! You also get tempura sauce to dip the vegetables in, which is definitely worth a try.
---
Ginger Chicken
This is one of the specialties at Hisa. It's a dish with breaded chicken strips and lettuce, along with a good helping of vegetable tempura. The way the chicken is cooked is just wonderful. I've ordered this many times - I think it's my favorite.
---
Tepanyaki
Beef or chicken over onions and vegetables in a great sauce, served sizzling on the tepan used to cook it, with a very noticeable hiss and lots of steam.
---
This dish is served in a bowl with a mixture of tonkatsu (breaded pork strips), onion, egg, rice, and other tasty stuff.
---
Udon
Udon is a kind of soup with really thick noodles. Delicious, and you get a big bowl of soup. I really like the tempura udon at Hisa. I've tried tempura udon at a couple of other places and it's nowhere near as good as Hisa's!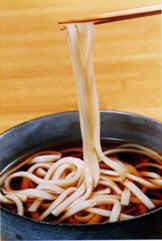 ---
Chicken Bento
This is a lunch special at Hisa served in a lacquered box. It has rice, chicken teriyaki, vegetable tempura, banana (or pineapple), two cucumber rolls, and a piece of crab sushi. It's a great dish for getting lots of variety!
Note: This is a picture of chicken bento from somewhere else, so the contents shown are different from my description above. The box is the same style though, and this will give you at least some idea of what the dish looks like.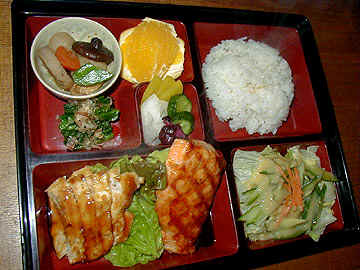 ---
Mmn, I love these things! The cucumber roll is a type of sushi in which rice and seaweed are wrapped around a small piece of cucumber. (Sushi does not necessarily involve raw fish - the word means "vinegar and rice". It's sashimi that is raw fish.)
---
Other Sushi
Eventually I really came to like other types of sushi. My favorite form of sushi is makimono, small rolls of sushi rice, nori (seaweed), and something in the middle. My favorite something is unagi (eel). It's really tasty!
---
Unaju
Baked eel over rice in a great sauce. It took me awhile but I finally tried this, and I've since ordered it many times. It's so good! The eel doesn't have that strong of a fishy taste, the sauce is really good, and it goes great with the rice.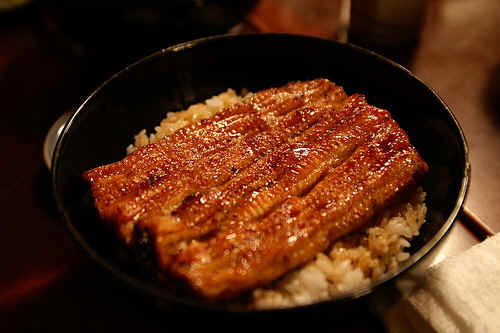 ---
Most of the dishes come with salad, miso soup and white rice. I like them all, and they help add to the variety of the meal. I don't have a picture of the salad, but it's really a nice salad made up of lettuce, carrots, and an orange-colored salad dressing whose name I do not know. But it's the only salad dressing I've ever liked, and it's great.

---
Hungry yet??!! :-)